Does your senior living company have a Twitter account?
No judgment here if the answer is NO. In the deluge of social media, its becoming harder and harder to get noticed without spending money on ad dollars.
And as long as we are making confessions, our Twitter account is largely composed of our team sharing shock and frustration about the lastest drama in D.C. (And that isn't limited to our addiction to Scandal and House of Cards.)
As health care advocates, the political landscape has been making us a little crazy. And Twitter is definitely dominated by politics these days.
But it has allowed us to connect with journalists, aging experts and a variety senior living resources that have turned in to solid leads for our business and background for our writing.
One thing we've been psyched to discover is that you can schedule tweets right in Twitter. No need for another platform or scheduler that we know so many of you are interested in.
While you don't have to pay for ads, you do need a Twitter ads account.
Scheduling Tweets in Twitter Ads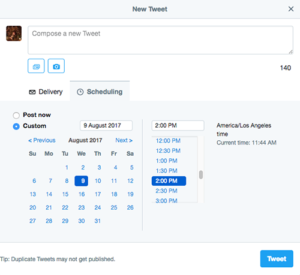 Here is the scoop on scheduling tweets:
Once you have your ad account set up, go to the Creatives Tab
Compose your tweet and don't forget to use a  relevant hash tag (it helps to research those ahead of time)
Schedule the tweet for a day and time you want it to go out
Yep… it is just that easy! And quick.
If you like to repeat your tweets every few days, however, you might run in to problems. Twitter doesn't always publish duplicate tweets.
One final tip to is to follow @TwitterBusiness for more tips and tricks. They tweet out good stuff every day!
And don't forget to follow Senior Care Content Specialists on Facebook if you don't already. Like the fine folks at Twitter, we share good stuff almost every day.
Here's wishing you and yours a happy Thanksgiving holiday!