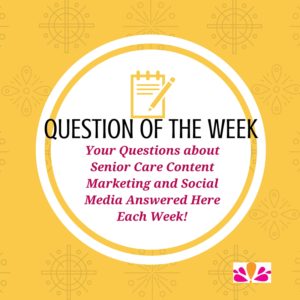 My very wise grandfather used to say the only guarantees in life are death and taxes. (And if media reports are to be believed, even the latter doesn't hold true anymore as evidenced by an unnamed, orange-tinted politician's zero tax bill.) But we still run across providers who have been "guaranteed" a top spot on Google search engine results for assisted living if they hand over big bucks to an SEO or content agency.
Which brings us to our question of the week: what can you/we do to guarantee Google search engine results for assisted living?
There Are No Guarantees with Google
Alas my friends, the answer is a big, resounding NOTHING.
There is nothing we can do that will guarantee results. And you should run far and fast from any agency who makes you those kinds of promises. They just aren't legit.
While our clients routinely find themselves at the time of the search engine results page, we never make any guarantees.
Why? You might be asking…when we have a proven track record of success?
 Because there are no guarantees when it comes to search engine results.
Even Google says you can't guarantee a top position. (Check out what Google has to say about search engine results guarantees … it's about two-thirds of the way down the page in bold letters.)
Google looks at as many as 200 different factors when it comes to how well a site ranks. Everything from the technical side of your site (e.g., speed or lack thereof) to bounce rate and authority go in to the search engine results soup.
As the leading senior care content agency what do we guarantee?
We guarantee that we "get it." The ins and outs of our very complicated industry. The voice. The audience. The fears and feuds among families. The funding solutions. The cost structure variations.
In almost seven years of business, we've never missed a deadline.
Finally, you can be sure your content is original. And strategic. And that it will connect with the senior or the adult daughter.
We just won't guarantee your site will vault to the top of the Google search engine results page overnight.  No legit assisted living content producer can.
Senior Living Content Questions
Have a burning senior living content related question you'd like answered?