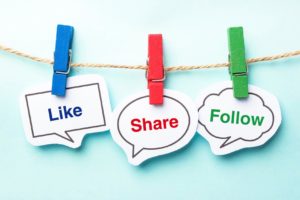 Remember the Field of Dreams? Kevin Costner looking hot in a baseball uniform… The classic line, "If you build it they will come?" Don't fall in to the trap of thinking your senior living blog posts are a field of dreams. Nope. They aren't. If you use keywords and phrases, they will definitely help your SEO. But you must make like a Kardashian and promote the heck out of your senior living blog posts, too.
How can you promote your senior living blog posts you ask?
Here are a few quick, easy-to-implement ideas?
Talk them up on Facebook. Ask people to Like and Share them with friends who might benefit from having the information. And share the blog posts more than once. We all know how low Facebook reach is, so it's important to keep sharing the articles.
Do families Subscribe to your blog? Referral sources? Residents themselves? Do they even know you have a blog? Promote your blog in resident newsletters, through a blitz of referral sources, on community bulletin boards, and even in your email signatures.
Do a round-up of blog articles of related topics (i.e. fall prevention, healthy lifestyle) and turn it in to an e-newsletter.
Create an image for Pinterest and share your posts there. It's a female dominated audience —much like caregiving!
Don't overlook sharing your blog posts on LinkedIn and Twitter. While it might seem like a long shot, having those social signals pointing at your blog can help drive traffic.
We know many people still read their small, local papers each week. You can turn one of your blog posts in to a great offline article to publish in your local paper. Add a byline that encourages readers to visit your blog for more great stories like the one they are reading.
Make it easy for others to share your blog posts by having social media buttons in visible locations on your site.
Apply to have your content shared through social bookmarking sites like Alltop, StumbleUpon or Digg.
Join Our Senior Living Blog Service Wait List
The best folks are always the busiest right? So our blog service is in high demand. Our best advice if you want the support of our top tier senior living content is to get on our waiting list. We are continuing to expand and the people on our waiting list are the first ones we call as soon as space opens up in our schedule!

Shoot us a note to learn more…